Competitiveness improvement
In today's global economy, attaining a competitive edge is vital. With many companies competing in crowded marketplaces, having to compete on price alone has become a reality for many companies. Ensuring that you are getting the best price possible for inventory is a vital process that should be equally as important to a company as ensuring quality is consistent and delivered on-time to customers.
The first reason you shall choose Longfai is we can help you achieve the goal of competitiveness improvement!!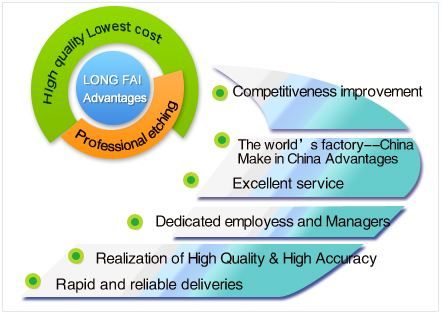 The world's factory—China Make in China Advantages
Do you know why many global brands opting for to directly outsource manufacturing to China?
Answer is make in China is the most cost-effective in the world.
There are several reasons:
1. China has a more developed and balanced industry than many developing countries. A well competitive manufacturing supply chain.
2. A lot of skillful worker and engineer.
3. The Chinese labor is also significantly inexpensive. (worker around 310USD/month, technician around 685USD/month)
4. We produce components to foreign enterprise without any tax.
Longfai headquarter is in KongKong. The free trade port city. We can purchase raw material in HongKong almost not additional tax from worldwide supplier. Then we send raw material to ShenZhen factory through the China policy call method of processing with supplied or imported materials.
China government exempts all value-added tax and consumption tax to us.

Above reasons make LongFai have lower cost than European and America.
LongFai promises you we will offer the most competitive price to you!

Excellent service
● All quotation requests are fulfilled within 24 hours or if complex the customer is immediately advised when the quotation will be sent.
● We acknowledge all orders to customers with delivery dates.
● We produce schedules to ensure that we meet quoted and acknowledged delivery dates.
● If we encounter delivery problems, we will inform customers of the delay and the revised delivery date.
● Real time data collection is used to ensure the most efficient method of manufacture is used and any cost savings passed onto our customers.
● We are flexible at all times to meet and exceed customers' needs.

Dedicated employees and Managers
LongFai spend considerable time and money in training each and every member of staff and ensuring they are highly motivated to meet the customers' requirements. We work at least 6 days a week.